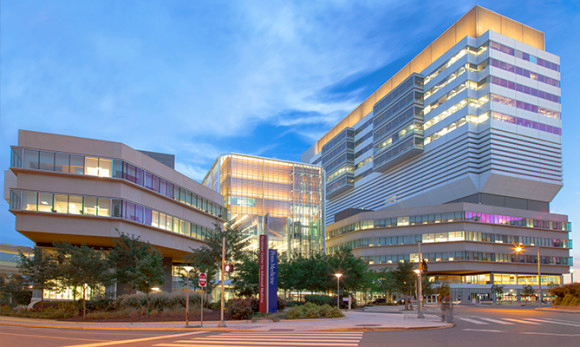 Health Care for the 21st Century
The ability of hospitals to deliver high quality care depends nearly as much on economics and management as it does on science and medicine—and nowhere do faculty and clinicians integrate these fields of knowledge more comprehensively, or more impactfully, than at Penn.
Admittedly, the University had a head start: home to the country's first hospital, first medical and business schools—and itself the country's first university—Penn was founded on an ethos of interdisciplinary scholarship and the practical application of knowledge in service to the public good. Penn's emergence as a 21st century leader in health care policy, education, practice, and research, is a result of teaching and employing two and a half centuries of innovators, from University founder Benjamin Franklin's invention of bifocal glasses in 1784 to Penn Medicine faculty member Carl June's breakthrough discovery of how to re-program a cancer patient's white blood cells to attack and kill tumors.
A Culture of Collaboration
The University of Pennsylvania and the University of Pennsylvania Health System harness the expertise of leading faculty across all 12 Penn schools and renown practitioners across all four Penn hospitals to pioneer new advances in medicine and health care delivery. As global health care grows more complex and its issues become ever more urgent, Penn researchers and practitioners work together to not only find innovative solutions, but also innovative ways to enact those solutions, improving the lives of individuals and populations at home and around the world.
"Collaborative research is one of Penn Medicine's great strengths."
—Glen Gaulton, Executive Vice Dean & Chief Scientific Officer of Penn's Perelman School of Medicine
The strength of this approach has led the Perelman School of Medicine (PSOM) faculty to receive more multi-investigative awards [grants awarded to multiple researchers for a common core project] than the faculty body of any other institution in the country.
In addition to University-wide connectivity, there is a extensive connectivity within PSOM itself. "That's something we've worked very hard to foster, says Glen Gaulton. "We don't differentiate between basic research, applied research, and clinical medicine—to us it's just one continuum."
Translational Medicine
This connectivity between clinical trials, fundamental research, and patient care—or "translational medicine," as it's come to be called—was an integral part of the School's structure well before it became a buzzword for academic medical centers across the country.
In 2001 PSOM engaged in a major strategic planning initiative that renewed emphasis on translational research across all biomedical fields. Several years later, when the National Institutes of Health identified the importance of translational research and advanced plans to support it, the PSOM was perfectly positioned to take advantage of this funding—and it has remained a step a head of the other top schools in that regard ever since.
"We have advanced key clinical, research, and education programs and created new support platforms and facilities to support them over the last 15 years—every one of them has been configured to marry patient care, medical and graduate education, and research," says Gaulton. "There's no other place in the world that has done that."
The dean of Penn's medical school is also the head of its hospital and health system, which is a unique arrangement even among university-owned hospitals. As a result, the education, research, and clinical care components are all synchronized, illustrating a highly efficient model for an academic medical center.
However expert the faculty and dedicated the students, it takes more than a medical school to optimize health outcomes. In order to advance health care delivery, whether at Penn's own hospitals or health care facilities around the world, it requires skill sets and knowledge bases outside the realm of science: expertise that is often best found in a business school.
"One of the key features that distinguishes Penn as a university," says Gaulton, "is having both a tremendously strong school of medicine and school of business, and then having them work together in a cohesive way. The two schools have an enormous number of natural alignments—both in terms of strategic program focus and the ethos of the faculty and the institution."
Health Economics
These alignments between Penn's schools of business and medicine were first formalized in 1967, with the establishment of the Leonard Davis Institute of Health Economics (LDI). Rather than drawing from the same well of perspectives that come from schools of medicine or public health, LDI uses perspectives and approaches that traditionally come from business schools to foster novel ways to think about health care.
In this way, says Gaulton, "LDI really serves as a focal point in terms of what is most unique about the two schools and about Penn broadly."
David Asch, Executive Director of the Penn Medicine Center for Health Care Innovation and former executive director of LDI, agrees: "It was quite visionary to connect a medical school and a business school just at the birth of Medicare & Medicaid, the country's biggest social insurance programs." The establishment of LDI significantly advanced the field of health economics, and now, Asch says, "everyone is scrambling, 50 years later, to create their own version of LDI."
"Health is the hidden university within Penn."
–David Asch, Executive Director, Penn Medicine Center for Health Care Innovation
 "When I started as director we had something like $7-8 million in research funding per year, which wasn't bad, but we grew it to $125 million a year, into the biggest university-based health policy organization in the world." Because LDI's health care management portfolio was so extensive, Asch says it had the effect of augmenting what he calls a "hidden university" by building the pathways that continue to link faculty from Wharton to medicine, to nursing, dental medicine, and the Annenberg School for Communication, going on to affiliate with the hospitals in Penn's health system and the Children's Hospital of Philadelphia. Today, LDI engages people from across all Penn schools as well as all the broader community of health services researchers in Philadelphia.
"Some people outside of here wonder how we're able to pull this [university-wide integration] off," says Lawton Burns, Professor of Health Care Management at Wharton. "It's because of proximity."
More often than not, medical school campuses are physically cut off from their host universities, but the medical school and other 11 schools that make up the University of Pennsylvania are co-located, giving University and PSOM faculty, together with Penn health system executives, easy access to and interaction with each other.
"You put it all together, and we have something here that you just don't find anywhere else in the U.S."
 –Lawton Burns, Professor of Health Care Management at the Wharton School
Health: Penn's "Hidden University"
Health-related research centers, interdisciplinary programs, dual degrees, and shared faculty abound on campus. Below is just a glimpse into the broad network of health-related offerings that advance student learning and faculty research across Penn—which in turn improves individual and population health in the world beyond.
Health Care Innovation
Asch believes that weaving health through the very fabric of the university has allowed faculty and students across all 12 schools to see innovation more broadly, and execute on it in unprecedented ways.
"The question of how to maintain and advance the health of a whole population is going to require new service delivery models.  The best of those will inevitably blend thinking from public health, insurance systems, and economics," says Asch.
He adds that "Technology is going to make that kind of activity more scalable, but in general it's about models and processes of care much more than it is about creating a new molecule or iPhone app. Neither one of those is going to help China advance population health. The issues at hand are those involving innovation and health care leadership and management, and honestly, we dominate in that field."
China & Penn: Partners in Advancing Global Health
"Some of the smartest people in the world live in China, and we want to work with them. If we were to exclude China from our partnerships, we would be leaving some of the most talented people outside of reach."
–David Asch, Executive Director, Penn Medicine Center for Health Care Innovation
In addition to the country's considerable intellectual assets, China's population and economy are booming. Naturally, new models of care are required to accommodate the increasing, and increasingly diverse, population: models closer to academic medical centers such as Penn's.
As a result, Gaulton says, "Penn can provide a great deal of expertise and input in regards to managing the balance between research, scholarship, and education, as well as running a hospital and health system, which is a whole different thing entirely. Ideally, each of these elements is incorporated into a cohesive and synergistic whole."
Penn can also provide valuable input in regards to health care policy and reform, as exemplified in the forthcoming book, China's Healthcare System and Reform. Written jointly by Lawton Burns and Gordon Liu, professor of economics at Peking University's Guanghua School of Management, the book draws from the Wharton Global Modular Course of the same name that they co-taught at Guanghua in 2012 and 2013.
This confluence of strengths and interests in health care is one of many meaningful alliances that Penn and China have enjoyed over the past two centuries. The difference now is that Sino-American partnerships have a new resource center that will significantly advance and simplify the logistics of their work together: the Penn Wharton China Center in Beijing (PWCC).
Ezekiel Emanuel, Penn's Vice Provost for Global Initiatives, and former advisor to both the Clinton and Obama administrations on health care reform, sees the PWCC as a critical part of Penn's global health care initiatives:
"The Penn Wharton China Center will allow those of us at Penn who focus on healthcare innovation to connect easily with our Chinese partners and share pioneering research and ideas between the United States and East Asia. A permanent presence in Beijing will continue to increase recognition for Penn's work in the global healthcare space and will promote collaborative research and teaching between Penn, China, and the rest of the world."
Significantly, a formal program on translational medicine and hospital management will kick off a host of events planned around the PWCC's Dedication and Gala Celebration on September 10, 2015. President Amy Gutmann will be hosting this celebration to highlight Penn's engagement in China as a defining element of the Penn Compact 2020.  For more information, see the PWCC website.