The Penn Wharton China Center (PWCC) held its inaugural Student Engagement Conference this October, welcoming both American and Chinese students with open arms. The conference featured three panels providing insight into China-related extracurricular and career opportunities, as well as resources and support available to international students on campus.
Sharon Smith, Penn's Associate Vice Provost for University Life, delivered opening remarks. She was introduced by Prof. John Zhang, Director of the PWCC. In her speech, Sharon highlighted Penn's warm and engaging environment, which creates a "culture of inclusivity" instead of always insisting on "the right answer."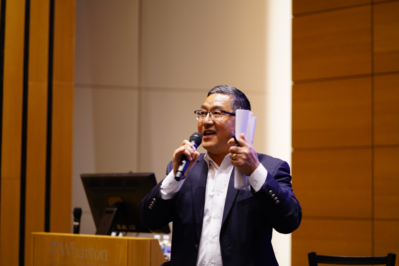 In his introduction, Zhang explained why the PWCC plays an important role at Penn. "I know that many of our students get their first impression of Penn and Wharton through the PWCC. We feel responsibility to make sure that when they are here on campus, they thrive and prosper. That's the purpose of us holding this event — to address many of the issues they may face on campus."
Panel 1: Adapt and Thrive
The first panel of the conference featured leaders of various Penn student clubs focused on China and the global community. It was moderated by Aman Goyal, Associate Director of Undergraduate Student Life at Wharton. The panelists emphasized the importance of opening up to new experiences as international students.
"The best way to get in the pool is just to jump in! Do what the locals do," said Perry World House Student Fellow Andrej Patoski, C'20. "This is a great place to explore your curiosity."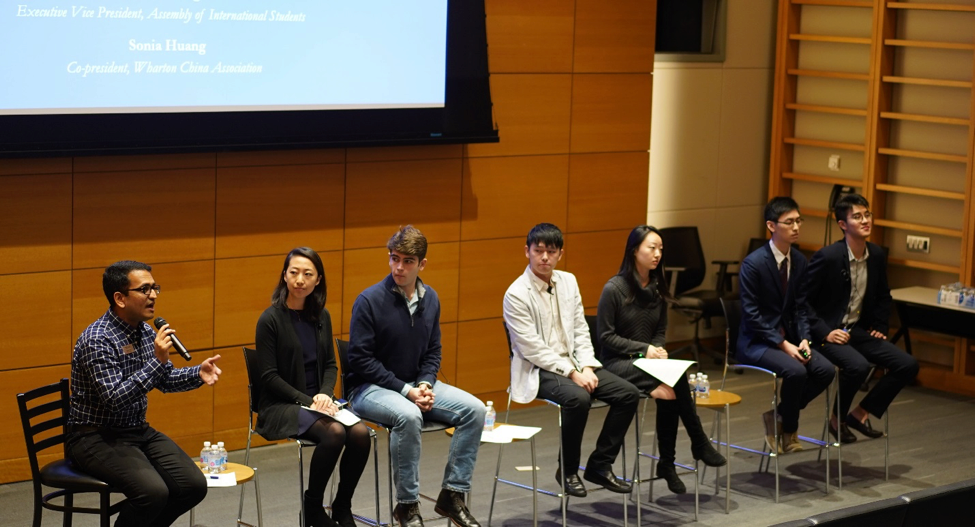 Along the same lines, Events Director of the Wharton China Business Society (WCBS) Haoran Wen, W'21, advised: "The biggest thing that helped me adapt and thrive in the Penn community was open-mindedness. Start a conversation with strangers, get lunch, get coffee!"
On the topic of selecting classes and extracurricular activities, the students agreed that it's important to know what's most important to you, and that comes with time and experience. Executive Vice President of the Assembly of International Students Eva Zhang, W'20, C'20, said: "Being able to consolidate what I'm involved in naturally happens, but I'm mindful that I have to make decisions and prioritize. Time management is really important, and it improves over time."
Co-founder and co-president of the Penn Wharton China Summit Alex Chen, W'19, thought the same. "It's a process of subtraction. Once you get older, you want to narrow down your focus so you can be really good at one thing rather than mediocre at many things."
"It's a matter of shopping around and finding that perfect fit," Aman added.
Panel 2: Career Development
The conference's second panel focused on differences and similarities between the professional environments of China and America. It was moderated by Dr. Barbara Hewitt, Executive Director of Career Services, and featured a panel of representatives from global organizations at Penn as well as notable alumni.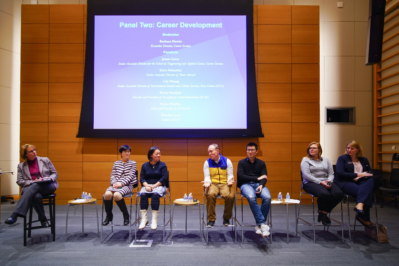 When asked about cultural differences, the alumni agreed that interpersonal relationships in China and the United States are very different.
Stuart Bradley, WG'06, G'06, is the CEO of 59YEAH and has had extensive experience working in both the Chinese and American financial sector. He said of China: "It's not enough to just speak the language; you have to have networks. You have to learn to do the work well, but you also have to navigate relationships in your company."
"Communication and networking are quite different," said Kristy Sundjaja, W'99, SEAS'00, GEN'00, a proud Hong Kong immigrant and accomplished social entrepreneur. "It's a lot simpler in America. You don't need to sit and wait for the right people to introduce you to a job."
With regards to career opportunities for Chinese international students in America, Lily Zhang, Senior Associate Director of International Student and Scholar Services (ISSS) explained that immigration-related hurdles certainly exist — but they can be overcome. She encouraged students to be optimistic. "If you see an obstacle, you see an obstacle forever. If you see a challenge, you can use it to improve yourself." She also advised thinking ahead. "For Chinese students who want to stay in the U.S., planning is very important."
Students who want to work abroad, perhaps in China, can do so in a variety of ways at Penn. One way is through the Global Research and Internship Program (GRIP), which funds over 200 opportunities to intern or conduct research abroad for 8–12 weeks in the summer. Erica Sebastian, Senior Associate Director of Penn Abroad, introduced this "curated" program that matches students to alumni overseas.
Yuechen Luo, SEAS '19, is a master's student who has received job offers from several prominent technology companies. As a panelist, he advised students to not underestimate the difficulties of job searching. From personal experience, he learned to start looking early and to never give up.
Jamie Grant, Senior Associate Director of Career Services, also spoke about how he has been developing a committee of advisors to help international candidates tell American employers compelling stories about their skills and capabilities.
Panel 3: Campus Resources
The third and final panel of the Student Engagement Conference was moderated by Zoe Qiao, Senior Associate Director of the PWCC. The panel provided students with a holistic overview of the support systems available across campus, including resources to help students to stay happy and healthy away from home.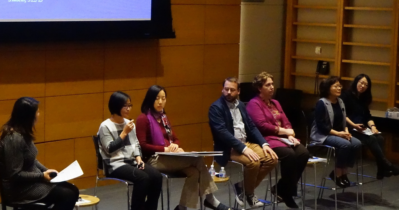 Dr. Yuhong He, International Specialist at Counselling and Psychological Services (CAPS), said that there have been increasing numbers of international students utilizing CAPS resources in recent years, and she encourages students to use one-on-one therapy as a method of prevention if they sense a particularly stressful semester coming on. This way, they can "establish a relationship with a therapist and have someone to support them."
In addition to CAPS, the panelists spoke about academic and career-based resources available to both international and American students interested in learning more about China. For example, David Dettmann, Associate Director for the Center for East Asian Studies, mentioned the FLAS (Foreign Language and Area Studies) Fellowships his Center provides for American students studying East Asian languages and related courses.
The Director of the Chinese Language Program, Dr. Mien-hwa Chiang, talked about Penn's Business Chinese program, which was the first of its kind offered in the United States. Dr. Chiang emphasized its focus on cultural competency: "We use literature and philosophy to delve deep into the trade of Chinese people. How do Chinese people behave? How do Chinese people perceive the world differently from Western people?"
Also on the panel was Xinyi Wu, a lecturer in the Chinese Language and Culture Program at the Lauder Institute, where students earn a joint JD or MBA and MA in International Relations. The Institute's Summer Immersion program allows participants to travel to Beijing for five weeks to network and learn Chinese. They then spend three more weeks in another major Asian city to visit companies before returning to Penn, where they learn more about language and culture in a classroom setting.
Valentina Goutorova, Senior Associate Director of Penn Wharton Entrepreneurship, noted various resources on campus available for students who want to begin or join ventures. "It's a good time to start [incubating] your ideas," she said. "You can be in a vibrant community bouncing ideas off each other and getting help from faculty and staff. Maybe you will succeed, maybe you will fail, but it's always a good time to start."
"Everyone comes to Penn for a reason," concluded Amy Gadsden, Executive Director of Penn Global, in an engaging closing speech. "It's important for us to know our student profiles to better serve them."