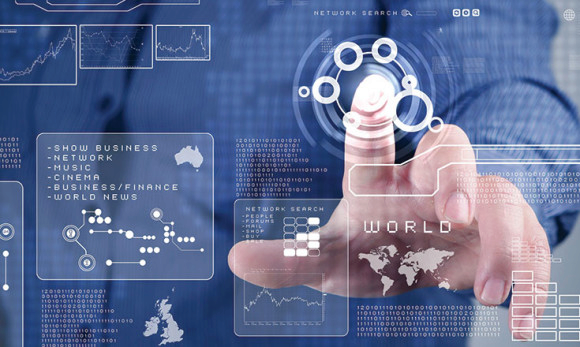 Information: The 21st Century's 'Big Bang'
Technology has disrupted all sectors of society, dramatically changing not only the ways we live, work, and recreate, but also how we research, teach, and learn. An abundance of information that once was siloed in distant cultures or distinct academic disciplines is now accessible—but only to those equipped to access it. Wharton earned its international renown in business analytics in part for their faculty's unparalleled expertise in accessing data: creating better and more interesting algorithms and teaching students how to crunch numbers.
However, in today's data-driven, data-filled world, companies suffer less from finding data than from having too much data and not knowing what to do with it all—and a large part of Wharton's analytical renown is from its faculty's unique expertise in this arena. Wharton professors excel at teaching students how to use the data they extract from number-crunching to make the best possible business decisions.
The 3 C's of Innovative Education: Collaboration, Cross-disciplinarity, & Computerization
When asked what makes Penn an educational innovator, Wharton's Vice Dean of Entrepreneurship and Innovation, Karl Ulrich lists three things: "Collaboration, collaboration, collaboration," which he calls "a tremendous strong suit for Penn: We're reaching out across twelve schools and six centers to join forces, share knowledge, compare methodologies, and increase our joint ability to solve all kinds of problems."
The fact that a number of Penn faculty hold appointments in two or more Penn schools is a testament to this signature strength of the University. The range of disparate disciplines they integrate into their research pushes the frontiers of knowledge, and in so doing, transforms what and how faculty teach their students. Among these educational pioneers are Penn Integrates Knowledge (PIK) Professors: world-renown faculty whose work is the meeting place of multiple disciplines, specifically recruited to advance the integration of knowledge across the Penn curricula.
PIK Professor Robert Ghrist, who holds appointments in the School of Arts and Sciences and the School of Engineering and Applied Science(SEAS), is known for using the principles of abstract math to solve systems engineering problems—and for being among the first wave of professors to teach Massive Open Online Classes (MOOCs). "I was really excited to do so because this is the future, this is where things were going. And Penn is right out in front of it," he says.
As with other Penn professors who teach online courses, Ghrist found that the pedagogical innovations he introduced online have carried over into the classroom: "I can no longer teach at the chalkboard in the same old style."
Ulrich concurs, calling the million-plus students that Wharton professors reach each year through MOOCs indicative of a level of educational access that is "unprecedented in human history." Like Ghrist, he has seen how online teaching introduces innovations into the classroom and enable professors to, as he says, "conduct pedagogical experiments in a way that has never before been possible, discovering what works in the classroom in real-time."
Not only has technology transformed education through MOOCs, so too is transforming the very nature of hands-on training. Dr. Margrit Maggio, Director of Advanced Simulation in Penn's School of Dental Medicine, led the development of techniques that have dramatically improved the way dental students learn manual dexterity and preclinical skills. The method delivers a highly realistic simulation of dental procedures through the use of haptic technology. As the first school in North and South America to integrate this technology into its curriculum, Penn Dental has helped to set a new global standard for this aspect of dental training.
Building an Innovation Infrastructure
Penn's innovation infrastructure is in a constant state of expansion both at University and school levels. Recent University-wide projects include the Penn Center for Innovation, where Penn students and faculty translate their breakthrough discoveries and ideas into technological advances, and the recently launched Pennovation Center, which will bring researchers and entrepreneurs together to fast-track basic research into products, services, and ventures that promise to benefit society.
School-specific programs that foster innovation can also be found in each of Penn's 12 schools, and many of the schools have at least one research center specifically dedicated to innovation. Penn School of Nursing's Health Technology Innovation Incubator is just such a one, connecting people from diverse disciplines to stimulate and expand the connectivity between healthcare science, clinical practice, civic life, and emerging technologies.
The Penn Medicine Center for Health Care Innovation (HCI) similarly accelerates ideas to transform health care. HCI's Executive Director,David Asch, says that Penn sees innovation much more broadly than, say, iPhone apps or commercialized medical advances, effectively enlarging its scope to include ideas about how we improve health care delivery to patients and how we deliver that care to people and populations at home and around the world.
Like Penn's Perelman School of Medicine, Wharton also embraces innovation in broader terms, and in 2010 established the Wharton Innovation Group in its nonstop efforts to advance business education. "That's just part of what Wharton is," says Ulrich. "We need to provide the most relevant and innovative ways of teaching business to our nearly 5000 students because they are heading out into a constantly evolving business environment, and we need to equip them for that."
Another way Wharton equips its students is through Global Modular Courses (GMCs). According to John Zhang, Faculty Director of the Penn Wharton China Center, GMCs give Penn students first-hand exposure to a unique combination of cultural immersion, course concepts, and emerging business issues in regions such as China that are undergoing rapid change. Zhang says that GMCs "provide the kind of experience that students with a global mindset are coming to expect."
Ulrich adds that GMCs demonstrate the way Wharton "thinks big" when it comes to innovating business education. "We brainstormed the most exciting, immersive, truly educational experience we could imagine," he says, "then we turned it into a reality. And we're doing that all the time."
Making an Impact
It's well-known that major research universities such as Penn are where the latest, most innovative research and scholarship is taking place, but SEAS dean Vijay Kumar is quick to point out that, as a research university, "You can't only do cutting-edge things. You have to also be relevant to society."
Similarly, Ulrich believes "The private sector can—and must—be an engine for public good. Business can be fleeter," he says, "more efficient, and yes, more innovative than government in creating solutions to societal needs like infrastructure or retirement incomes. Wharton understands that there is a crucial intersection between the public and private sectors," he adds, "and that the private sector must take a more expansive role in promoting the public good."
Kumar's and Ulrich's words reinforce Penn's multi-pronged initiative to bring the benefits of its innovative research, teaching, and service to individuals and communities at home and around the world.
Impactful Penn-China Partnerships
Given Penn's many enduring and fruitful partnerships with colleagues in the business, government, and education sectors in China, this country is an important site of global connection and exchange for the University.
As such, the PWCC opened in March of this year, in part to facilitate Wharton's advancement of business education. Ulrich says it serves as a vital hub "of information-sharing among faculty, alumni, business leaders, companies, and students in a way that is only possible if we are not only in that country, but in the center of its business activity."
He offers the PWCC as a particularly strong example "of the way that Wharton embraces audacious answers to big questions in business education. China is a driving force in the global economy; business schools are proliferating across Asia—and Wharton is there. We are not just studying what is going on in business in China; we are a part of it."
by Christina Cook, University of Pennsylvania
September 9, 2015