PLACEHOLDER
Placeholder
Event Website: Register Here
October 6, 2023 - Chinese Mid-Autumn Festival Celebration & Penn Resource Panel
About the Event
October 6 | 3:00 PM – 4:30 PM EDT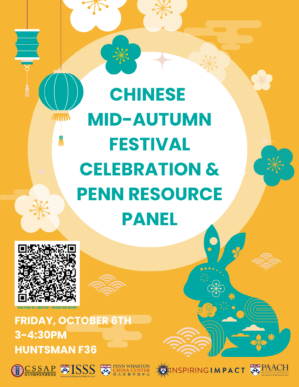 Location: Huntsman F36, 3730 Walnut St, Philadelphia, PA 19104
Event Website: Register Here
September 26, 2023 - Machine Learning: How To Do It Well
About the Event
Everyone is talking about machine learning these days. ChatGPT answers our questions. Midjourney paints much nicer pictures than me, and reinforcement learning algorithms power robots doing some things that look much better than they looked a few years ago.
However, as machine learning moves into real world application, solving data problems across science and industry, we must ask what it means to use machine learning well. Most problems do not occur as part of the algorithms, but as part of the systems that we build around the machine learning algorithms. Join PIK Professor Konrad Kording for an overview of various problems that occur in that process and highlights on how to fix it.
About the Speaker
Konrad Kording
Penn Integrates Knowledge (PIK) Professor, University of Pennsylvania
Joint appointments in the Department of Neuroscience in Penn's Perelman School of Medicine and in the Department of Bioengineering in the School of Engineering and Applied Science
Research Interests:
Dr. Kording's research has one single focus, data that matters. Early research in the lab focused on computational neuroscience and in particular movement. But as the approaches matured, the focus has more been on discovering ways in which new data sources as well as emerging data analysis can enable awesome possibilities. The current focus is on Causality in Data science applications – how do we know how things work if we can not randomize? Our style of working is transdisciplinary, we collaborate on virtually every project.
VIRTUAL EVENT
Event Website: Eventbrite
May 10, 2023 - Silicon Dragon to Silicon Heartland
About the Event
Remote industrial regions in the American Midwest that were nearly forgotten when money and power shifted to Silicon Valley and to China are now being rebooted and reenergized. What has been known as the Rust Belt is developing the shine of a Tech Belt. This comeback bodes well for the nation's economy and global competitiveness.
Based on Rebecca's 150+ interviews and 8,000 road trip miles in her Honda Element during Covid, Silicon Heartland takes readers on an investigative tour of a new frontier through hi-tech innovation. It's a counterpoint to China's technology drive and increasing US-China frictions and decoupling of tech ecosystems.
The book has been endorsed by several thought leaders, including VCs Jim Breyer and Steve Case as well as Cisco ex-chairman John Chambers and Congressman Ro Khanna.
About the speaker:
Rebecca A. Fannin is a CNBC contributor, author of a newly published book Silicon Heartland, and a media entrepreneur.
Her research and writing about Asia's entrepreneurial boom led to three prior books that have been published in multiple languages: Silicon Dragon (2008), Startup Asia (2011), and Tech Titans of China (2019). A guest on BBC, Bloomberg, Fox News, and NPR, and a quoted expert in the New York Times, she also has spoken at the Brookings Institution, Asia Society, and many universities, including Harvard, Yale, and Oxford.
Event Website: Eventbrite and WeChat
May 8, 2023 - Banking on Deposits
About the Event
Deposits are at the core of the business of banking. We will discuss the business of deposit taking and how it is influenced by monetary policy. We then discuss how deposits allow banks to do maturity transformation–turning short-term deposits into long-term loans—without necessarily exposing themselves to interest rate risk. Clearly, this did not work well for Silicon Valley Bank (SVB), and we look at the ways in which SVB's combination of deposits and asset differed from, and were similar to, other banks. Finally, we discuss the concerns that SVB's failure raised for the US banking system going forward.
About the Speaker
Itamar Drechsler
Ervin Miller-Arthur M. Freedman Professor; Professor of Finance, Co-Director, Rodney L. White Center for Financial Research, The Wharton School
Event Website: Eventbrite and WeChat
April 3, 2023 - Quantum Computer Engineering: Challenges and Opportunities
About the Event
The second quantum revolution, the transition from quantum theory to quantum engineering, is leading us toward practical quantum computing. However, there are still many obstacles hindering practical quantum computing. In this talk, Dr. Gushu Li will briefly review the challenges and research opportunities in the state-of-the-art quantum computing engineering technology stacks, including quantum computing devices, peripheral control hardware architecture, compiler design/optimization, programming language design, etc. Then, Dr. Gushu Li will briefly introduce his recent works in tackling some of these challenges from multiple technology stacks.
Event Website: Eventbrite and WeChat
February 28, 2023 - Webs of Wellness: Connections Between Mind, Body, and Community for Making Change
About the Event
Virtual event featuring Prof. Emily Falk,  Associate Dean for Research at the Annenberg School for Communication.
VIRTUAL EVENT
Event Website: Register Here
January 12, 2023 - Head vs. Heart: Facebook Language Reveals the Differences Between Loneliness and Depression
About the Event
Joint virtual program with WWBP Postdoc Research Fellow Tingting Liu at the Positive Psychology Center.
VIRTUAL EVENT
Event Website: Register Here